Phil's Story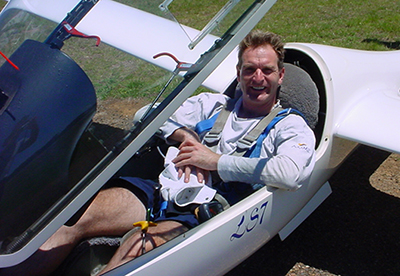 MANILLA NSW

Condition: Paraglider
Uses: Male external catheters
Challenges: Maintaining hydration on long paragliding flights
Falling for the sky
The way Phil tells it, hanging around at 3000m in a paraglider is the perfect way to spend nearly every day – and he would if could. Phil was born in Germany and gave up his career as an accountant to travel. He ended up in Cairns and fell in love with the tropical paradise, but quickly realised the summer humidity was too much.

While on that long-ago adventure in Cairns he was intrigued by an intro to hang-gliding course and has been hooked ever since. Phil spent many years following the gliding seasons between Europe and Australia. Now he lives just outside Tamworth in regional NSW and is a passionate glider and paraglider pilot.
The machinery of gliding
A typical day of flying for Phil involves driving to the top of a local hill, setting up the glider and allowing the winds to inflate it before a gentle launch. Gliding is strongly weather-dependant and if the weather conditions suggest a good day and a long flight, Phil will prepare himself with a male external catheter. He connects this catheter to some 6mm tubing he bought from the local hardware. This tubing fits into a channel built into his harness and drains away from him while in flight.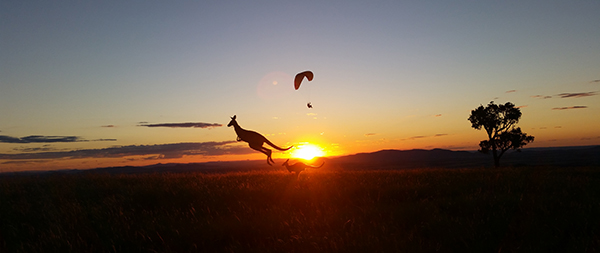 Phil prefers to fly with friends, and his longest flight went for 9 hours and 10 minutes and took him 283kms from home. With short local flights he will often land and pack the glider away before hitching a ride back home. But with longer flights on days with perfect weather, the pilots will organise a driver to follow them as they fly.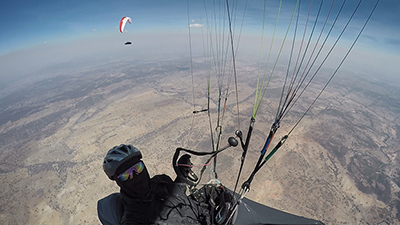 Continence at high altitudes
For every 100m of elevation there is a corresponding 1 degree drop in temperature. Often when the temperature at ground level is 35 degrees the pilots stand sweating, waiting for lift wrapped in gloves and jackets as, when they reach 3000m, it can be as cool as 5 degrees. Pilots need to stay hydrated and many wear a camel-back drinking bladder, while others carry a water bottle - but it gets so cold any water source can freeze. Phil says that like many he feels the increased need to urinate at cooler temps and so the Paralogic system he uses makes it simple and easy to manage. Surprisingly, only about 3 of the 100 or so pilots in Phil's local gliding club are aware of the simple solutions Paralogic can offer. Unfortunately for female pilots (which make up about 10% of pilots) the solutions available come down to pads, pulls ups or other absorbent products.

Phil was unable to find a clear explanation on the products available to help with continence at altitude. Another pilot mentioned male external catheters to Phil and recommended Paralogic. This is a conversation Phil is now happy to have with newer pilots – passing on the knowledge to save others the same troublesome issues.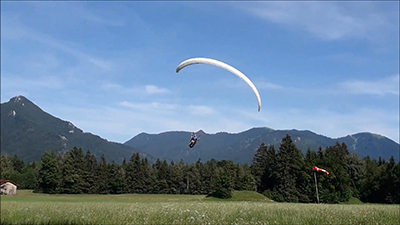 The thrill of the lift
A lot of training and practise goes into piloting gliders. Phil talks about the knowledge that can be gained from training courses and licensing classes. But it really is the years of experience that allow him to judge the wind and weather, and fly as he does. Phil enjoys the thrill of finding the next lift and spending time with friends. Phil has flown all over the world and his favourite place to fly has been the Dolomites in Italy for the breathtaking scenery. Phill is going to be 59 shortly and just wants to keep flying with his friends, in fact he left our conversation to head out to meet friends and hit the skies.