Rex's Story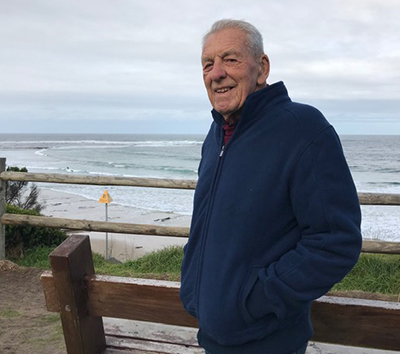 BURWOOD VIC

Condition: Urinary Retention following TURP
Uses: Male Intermittent Catheters
Challenges: Catheterising while travelling and cycling
By the Seaside
At 88, Rex is not letting age and a new reliance on catheters get in the way of keeping active. Rex had a distinguished career as a teacher, first in the Victorian state school system and later at the prestigious Scotch College. Needing a change after 27 years he then moved onto a career in marketing, representing Australian and Victorian tourism bodies at overseas events.
In his late 30's, Rex visited the local yacht club where he was invited to try sailing. He went out for the day as a guest and he was hooked. Rex spent Saturday mornings in the 1970's on the water coaching kids in sailing. It was then that he realised that the boats were not appropriate for kids to sail - they were too heavy and had limited buoyancy. If a child capsized, they would need to be rescued and would be pulled from the water cold and scared. To rectify this, Rex designed and built the first Minnow class boat, which is now raced all over Australia. As the needs of his family changed, Rex spent years designing and developing the Sabre class. The Sabre is now used by 36 clubs in all states.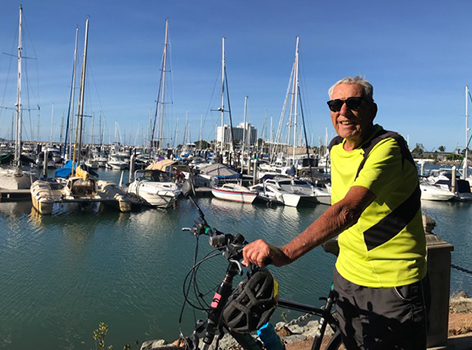 Sailing is a very athletic pursuit and now in his 80's, Rex has found sailing taking a back seat. In 2017 Rex was awarded the Order of Australia Medal (OAM) presented for his services to sailing.
TURP Time
In 2018 Rex and his wife Bev were travelling in Queensland via caravan and Rex was suffering from repeated urinary tract infections (UTIs). Upon returning to Melbourne, Rex sought the advice of friends and booked in to see a Urologist. What followed was a transurethral resection of the prostate (TURP), a surgical procedure which involves cutting away a section of the prostate. 12 months later Rex was finding it difficult to pass urine. He had another TURP procedure in December 2019, after which he was wearing an indwelling catheter and leg bag. When that catheter was removed, he found it impossible to urinate.

Strangely, the next step in Rex's continence journey came with a visit to their financial planner!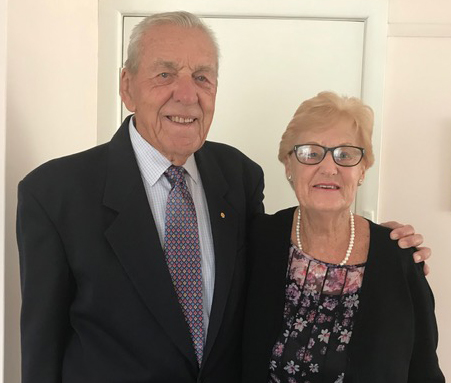 The conversation came round to Rex's surgery and whether he was going to stick with the indwelling catheter and leg bag or whether he could manage with self-catheterisation. This financial planner was a long-time user of intermittent catheters and was able to convince Rex that he would easily be able to manage self-catheterisation. Conversations about continence are never easy but when we open ourselves to them, we can often find a great resource.
Returning to the Urologist, Rex was sent to the nurse for instruction in self-catheterisation. Rex admits it was confronting to sit with a urological nurse and have her say "this is what you need to do, I will demonstrate and then you will practise in front of me".
Weighing up the Options
Rex began with an FG14 pre-lubricated catheter and finding them expensive went online and came across Paralogic. He has since been using our standard firmness male length intermittent catheters. He does have some hesitation pushing through several points of obstruction and has tried the Paralogic soft and Tiemann tipped catheters, but has decided the straight tipped standard firmness work best for him.
Rex is currently using a catheter 4-5 times a day at regular intervals and for his own information is recording the time of day and volume voided. Since his two TURP procedures and his self- catheterisation routine he is no longer suffering from UTIs. Rex puts this down to paying careful attention to maintaining hygiene while learning to catheterise.
Globetrotting and Grey Nomads
Rex and wife Bev have enjoyed a lifetime of adventuring. Their caravan is an older model without an ensuite bathroom but when holidaying, he prefers to use a catheter inside the van and empty into a bottle rather than using public or park toilets. They are keen cyclists and have travelled extensively in Australia and overseas. Wherever they go they always hire bicycles and have enjoyed cycling European rivers paths, the Austrian Alps and the nerve-wracking streets of New Delhi. Though now in his 80's, Rex is still cycling every day and travelling when he can.